SUMMER TEA PARTY WITH THE CHEUNG SISTERS
July 2018

---
LALA CURIO founder Laura Cheung sat down with her sister Anne Cheung to have a playful summer tea party shoot with The Style Street this season. The two creative sisters' businesses both are in the Starstreet Precinct of Wan Chai. While Laura curates "playful, theatrical home décor products" for the fashionable interiors, her sister Anne "serves up deliciously cream sweet treats" at her "charming al fresco-style patisserie," stated by The Style Street.
Laura describes her ideal setting and design concept for hosting "a tea party with flair." With her trademark style of whimsicality and fanciful textures and colors, Laura "keeps it playful" with "perfectly assembled bouquets in assorted cases." She suggests using wallpaper if you want to revive your home for the summer with the "least amount of work." Laura recognizes that being a host is also about "honoring your guests" and that is why for her fabulous parties, she always makes sure her guests get a thank you gift for attending and using place cards to ensure a harmonious and fun-filled event.
"People have collected beautiful things for thousands of years, but the most exciting collections have always been built around a real passion," declares Hong Kong-based interior designer, collector and self-described "magpie" Laura Cheung. In her eclectic, colourful world, instead of secreting her treasures away, she uses them to create something new and exciting. Mid-century hand-painted ceramics mix with colourful contemporary lacquered boxes; hand-painted or pearl-embroidered wallpapers mingle with antique Rosewood.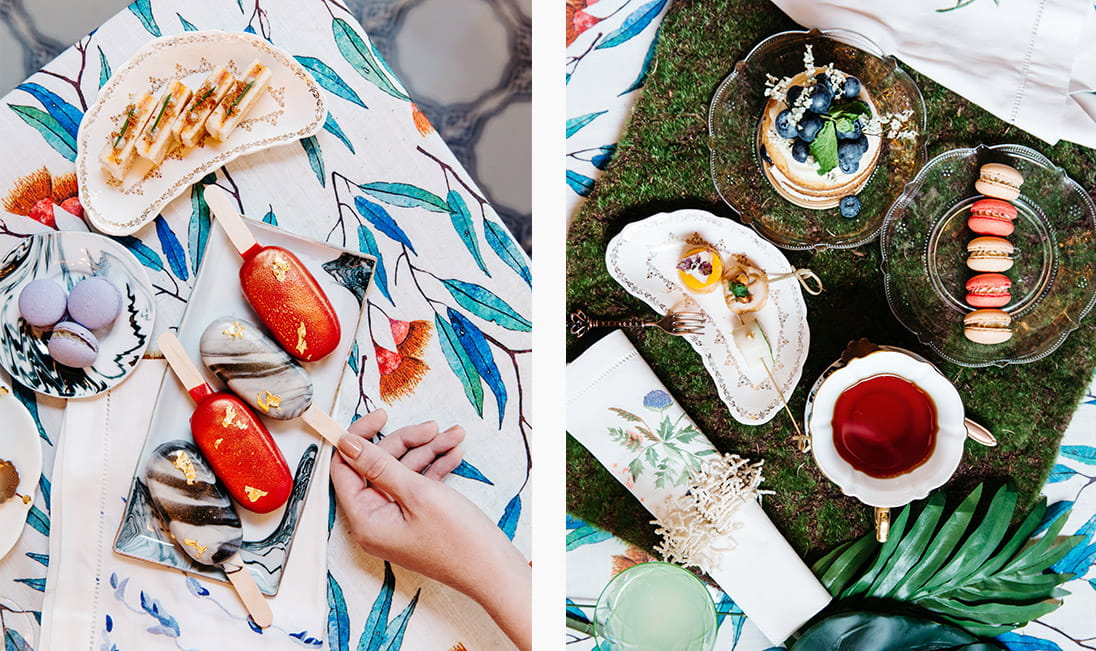 Canapés, sweet treats and cakes and tableware courtesy of Jouer, tablecloth from LALA CURIO

Put a spin on the classic Cream Tea…
Anne: 'You can't go wrong with a classic "Cream Tea" (an afternoon tea with a pot of well-brewed tea and good scones with jam and cream) but go ahead and put a twist on it. For instance, for a Japanese-inspired Cream Tea, serve a pot of warming genmaicha tea and yuzu scones with homemade Fuji apple jam and mascarpone cream. For a Hong Kong-inspired afternoon tea, try a cup of salted lime ginger tea paired with pineapple-bun crusted scones and homemade pineapple jam.'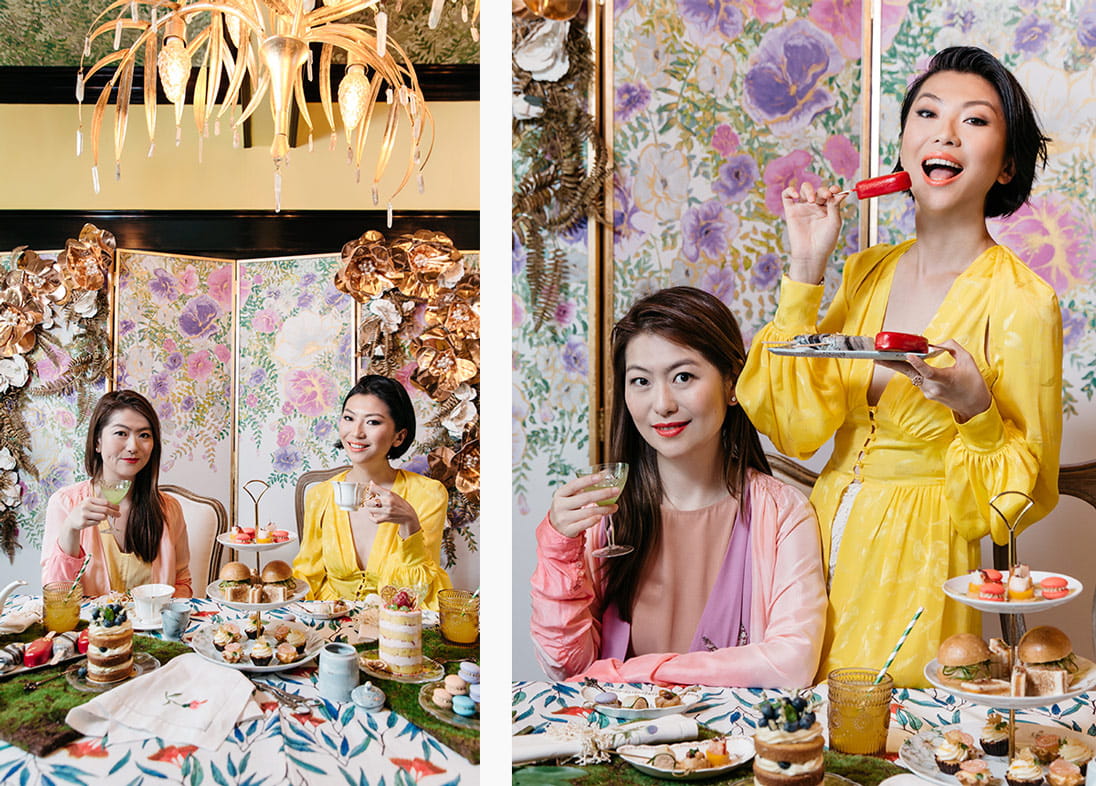 Anne (left) wears Dries Van Noten and Laura (right) wears Attico, available at Joyce Boutique Pacific Place. Canapés and tableware from Jouer, home furnishings from LALA CURIO
Make an impact with a fun clash of homewares…
Laura: 'For a tea party, keep it playful with small arrangements of perfectly assembled bouquets in assorted vases such as glass, cloisonné and ceramics - the more eclectic, the more fabulous. For crockery, I like to mix LALA CURIO's hand-painted bone china collection with pieces from Jouer's amazing collection of tiered tea sets and vintage finds. If you're looking at refreshing your interiors for the summer season, wallpaper is the easiest way to make the most impact. The power of changing your walls literally transforms your interiors with the least amount of work. Matching cushion covers create a total look without having to touch your existing furniture.'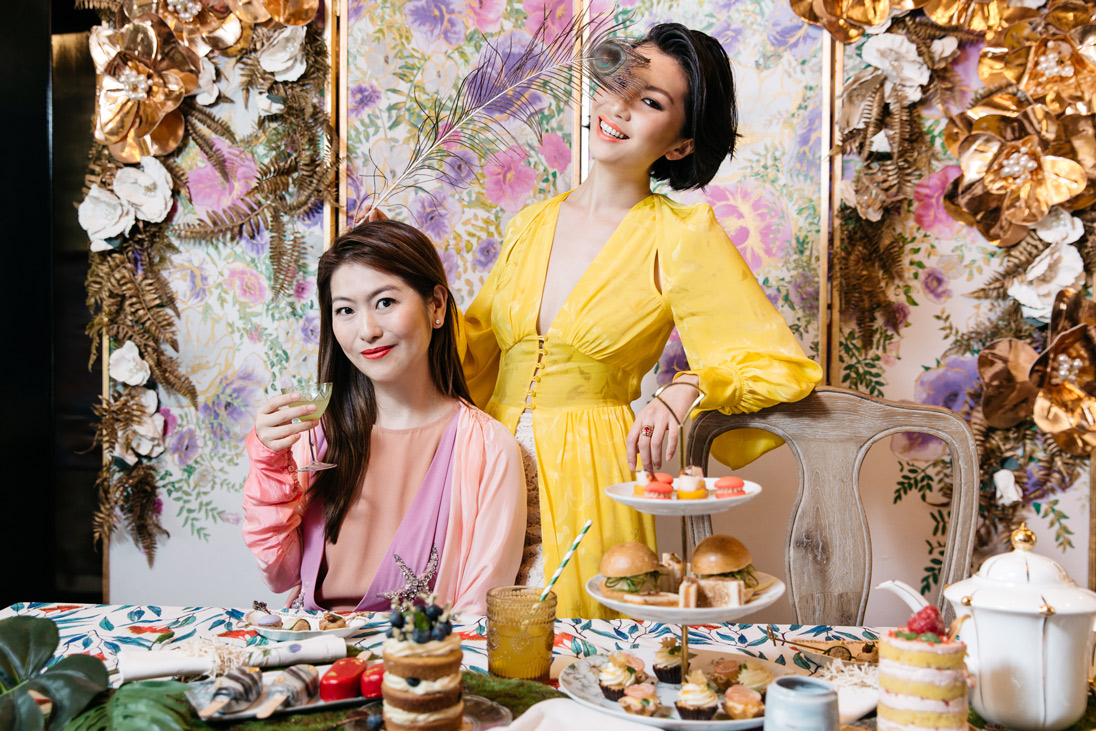 Get creative with the presentation of sweet treats and canapés…
Anne: 'Come up with a theme first, and then find related items or accessories you could pull together as a coherent "set". Be creative and opt for unconventional containers and props to serve your small bites and pastries. For example, glass jewellery boxes can be used to serve macarons and mini desserts for a girly-themed tea. Mini floral cupcakes can be attached to lolly sticks and bundled up as a little bouquet in a small vase. Picnic baskets and wooden boards can be used for a country picnic-themed feast. For catering projects for Jouer, I've created edible rose on chocolate soil flower pots inspired by the Little Prince for Mont Blanc's Little Prince campaign, quail egg canapés on crispy pasta "nests" for a LALA CURIO bird-themed party and a top hat and neckpiece made entirely of macarons for a collaboration with Daydream Nation.'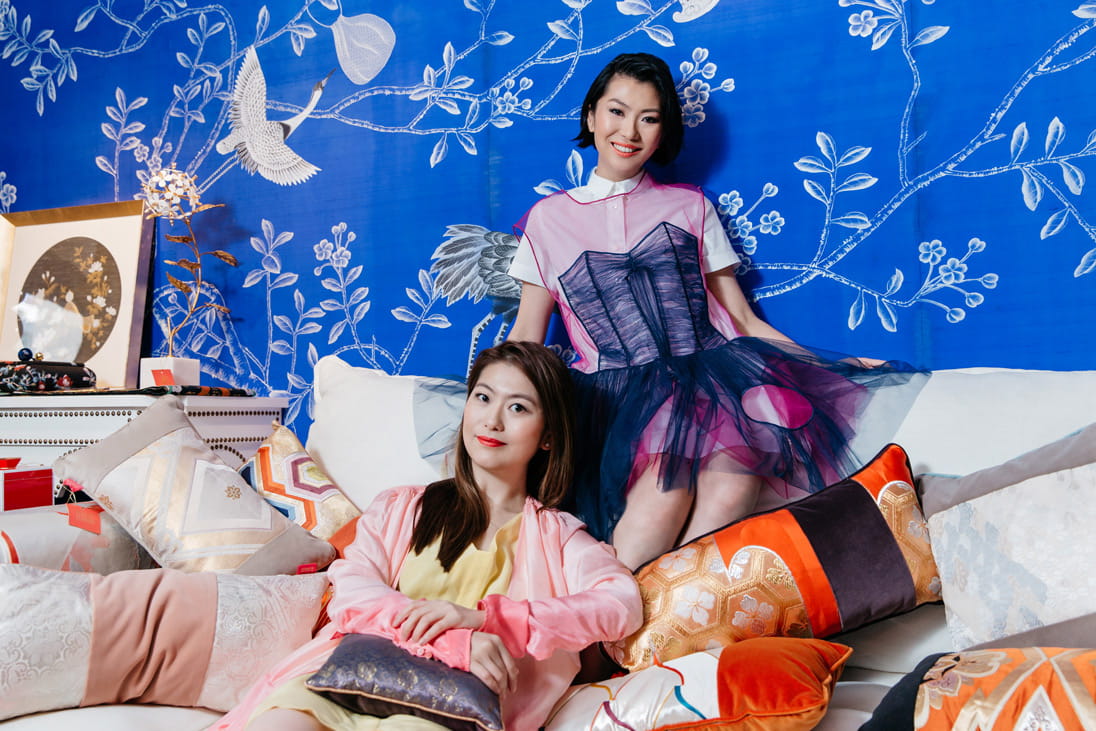 Anne (left) wears Dries Van Noten wrap dress, Laura (right) wears Sacai shirt dress and Viktor & Rolf tulle dress, available at Joyce Boutique. Home furnishings and wallpaper available at LALA CURIO
Have fun with fashion (and don't be afraid to improvise)…
Laura: 'My fondest memory of hosting a summer party was when I wore a corset I had made in a theatre costume workshop in Sydney, and these funny frilly shorts and handmade lace knee-high boots. I had fascinators prepared for everyone. We had a fashion stylist and two professional photographers as guests. After a few glasses of champagne, the party turned into a photo shoot, everything was improvised on the spot and the results were phenomenal!'
Go the extra mile and make it personalised...
Laura: 'Honour your guests by making an effort. I like to try do something personalised and offer a small gift to thank each guest for attending. I like to do personalised agate coasters, with each guest's name etched into the agate, as a gift each guest can take with them. I also always, always do place cards – it's your responsibility as a host to ensure that your crowd is mixing harmoniously and everyone is having fun!'
Taking cues from the theatrical and whimsical LALA CURIO store, Anne and Laura Cheung read a passage from the novel Alice's Adventures in Wonderland...